Countable coins: Suitable for counting US coins, Canadian coins, Mexican coins , most international coins and tokens. Hopper capacity: 4000 coins (dimes), Counting speed: up to 3400 coins/minute

Compact design with a small foot print, perfect for use in small sh

 2.5 inch TFT screen, perfectly displays Qty, Amount, error messages, easy for understanding.

 Counting modes: Count in the piece, Count in value, adding mode, batching mode, save in memory. Smaller coins will be off-sorted to reject cup

 Side cover can be fully opened, make it easy for daily clean and maintenance. All parts are made for durable use. Guarantee: we provide two year warranty, if you meet any issue during use, Just contact us by e-mail and we will respond within 12 hours.
 Ribao Technology Co., Ltd., founded in February 1996, has developed into a high-tech enterprise integrating research and development, production, and marketing, concentrating on the fields of banknote and coin counting, detection and identification. Our machines provide effective identification evidence for cash registration in banking and securities for supermarkets, subways, buses, automatic sellers, retailers, lottery industries, etc.

Our products are distributed to over 100 countries and regions. Products sold to European countries have passed European Central Bank standards. All of our products have passed CE and CB certifications. In 2005, we passed the certification of ISO9001 quality control systems.

Our featured products include High-Speed Coin Counter, Coin Sorter with Detection, Banknote Sorter, Bill Discrimination Detector.

With the mission of making our customers satisfied and creating modern management tools, we provide top quality products and services, reflected by our good reputation in the industry.
Compared with other coin counter models in the market, HCS-25 has many advantages
1) It adopts 2.8 inch TFT screen, displays denomination, quantity, batch quantity, accumulated quantity and error message, easy for understanding.
2) If you select denomination in advance, it can calculate and display total amount instead of display quantity only.
3) Be able to set different batch quantity for each denomination, easy for coin wrapping.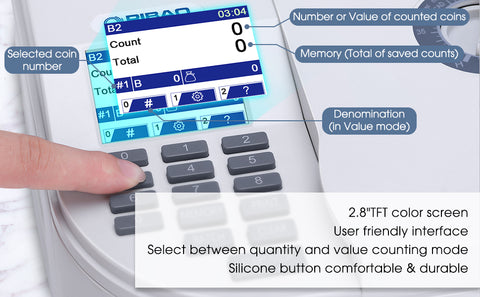 Coin dial label is designed for US coins and Canadian coins, easy to make adjustment before counting coins.
Compact body with strong driving power, speed reaches 3400pcs/min, 2 times faster than other models
Open the top cover to load coins; while it is not in use, please close the cover to protect the machine body.
HCS-25 occupies a small footprint, easy to carry during your travel, perfect in fitting your shop, offices .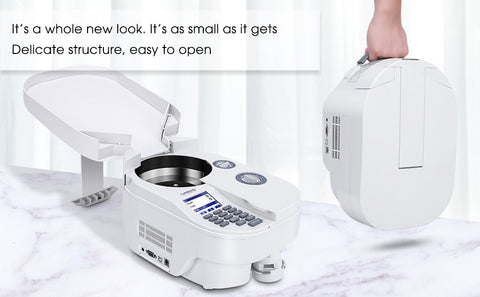 Suitable for counting 95% round coins or tokens in the market, ideal choice for bank, parking lot, amusement, lanudry, casino.etc.
If you want to count mixed coins, please make sure to count from bigger size to smaller size one by one, the smaller coins/chips can be sorted to reject cup.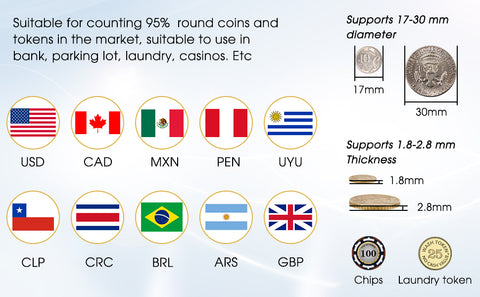 The side cover can be fully opened, 95% parts are produced in mold, quality and reliability can be trusted.
.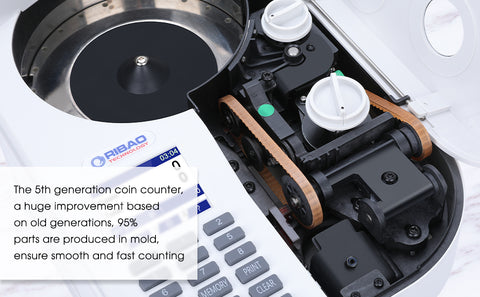 Wide Voltage supports 100V-240V, no matter you use in US districts or South American or Central American countries, no need to use transformer, PLUG and PLAY.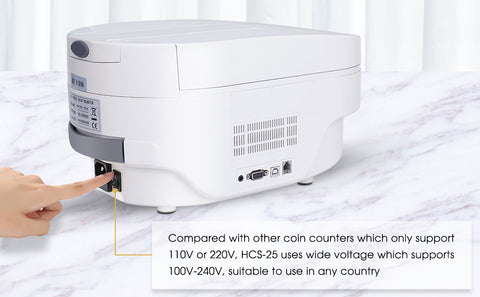 Ribao CS-600B Heavy Duty Mi...


$1,074.00
Ribao HCS-25 Dual Voltage Value Count High Speed Heavy duty Compact Portable Coin Counter and Sorter